A PRO-ACTIVE APPROACH TO CRIME PREVENTION IN SOUTH AFRICA

A PRO-ACTIVE APPROACH TO CRIME PREVENTION IN SOUTH AFRICA
Security is a major concern in South Africa, and the country faces various challenges including high crime rates, political and social instability, and poverty. South Africa has one of the highest crime rates in the world, with incidents of theft, robbery, and assault being common.
To address these security challenges, many South African businesses, residential communities, and individuals are investing in private security services, including guards, alarm systems, and closed-circuit television (CCTV) cameras. However, the effectiveness of these measures can vary, and it is important to be vigilant and take steps to protect yourself and your property.
To increase the effectiveness of CCTV cameras there are steps that you can take to prevent and mitigate potential security risks before they occur. These measures are designed to reduce the likelihood of security incidents and minimize the impact of any incidents that do occur. An excellent example of proactive security measures include CCTV systems that are enabled with Human Form Detection.
WHAT IS HUMAN FORM DETECTION?
Human form detection in security cameras refers to the process of using computer vision algorithms to automatically identify and locate individuals in real-time video footage. The objective of human form detection is to provide surveillance systems with the ability to distinguish between humans and other objects, such as vehicles, animals, or inanimate objects, in order to monitor and track human activities.
This is usually achieved through a combination of object recognition, motion analysis, and background subtraction techniques. Object recognition algorithms identify the presence of a human-like form in an image, while motion analysis algorithms track the movement of these forms over time. Background subtraction algorithms remove static elements in the scene, such as walls or furniture, to focus on the moving objects, making it easier to detect and track human forms.
Human form detection has many applications in the field of security and surveillance, including access control, crowd management, and crime prevention. Ongoing research is being conducted to improve the performance of human form detection algorithms.
PRO-ACTIVE CRIME PREVENTION FOR YOUR HOME OR BUSINESS
PRO-ACTIVE CRIME PREVENTION FOR YOUR HOME OR BUSINESS WIth Unifier's Human-From-Detection enabled system you are decreasing the likelihood of home break-ins and other crime in and around your property. Your standard CCTV camera now has three additional, extremely valuable features.
Sirens. Once an intruder has been detected in your yard, the camera will sound an alarm, drawing attention to the intruder.
Flashing Lights. In addition to the siren, the camera also flashes bright blue and red lights that draws the attention of the intruder and ensures a nice clean face shot on camera, which is invaluable in assisting police investigations and securing convictions down the line.
Alerts. You will receive an alert on your phone immediately when a camera has been triggered which enables quick intervention. Detection times can be set and adjusted on your app to ensure your cameras are only working when you need them.
Once a criminal knows he/she has been detected, they don't have the luxury of sticking around. Make sure you take a pro-active approach to protecting your home and family with Unifier's Human-From-Detection CCTV system.
A typical 8 camera installation takes our Gauteng team less than 4 hours! Plus, it will cost you less and it's backed by our three year warranty.
CCTV doesn't need to be complicated or expensive!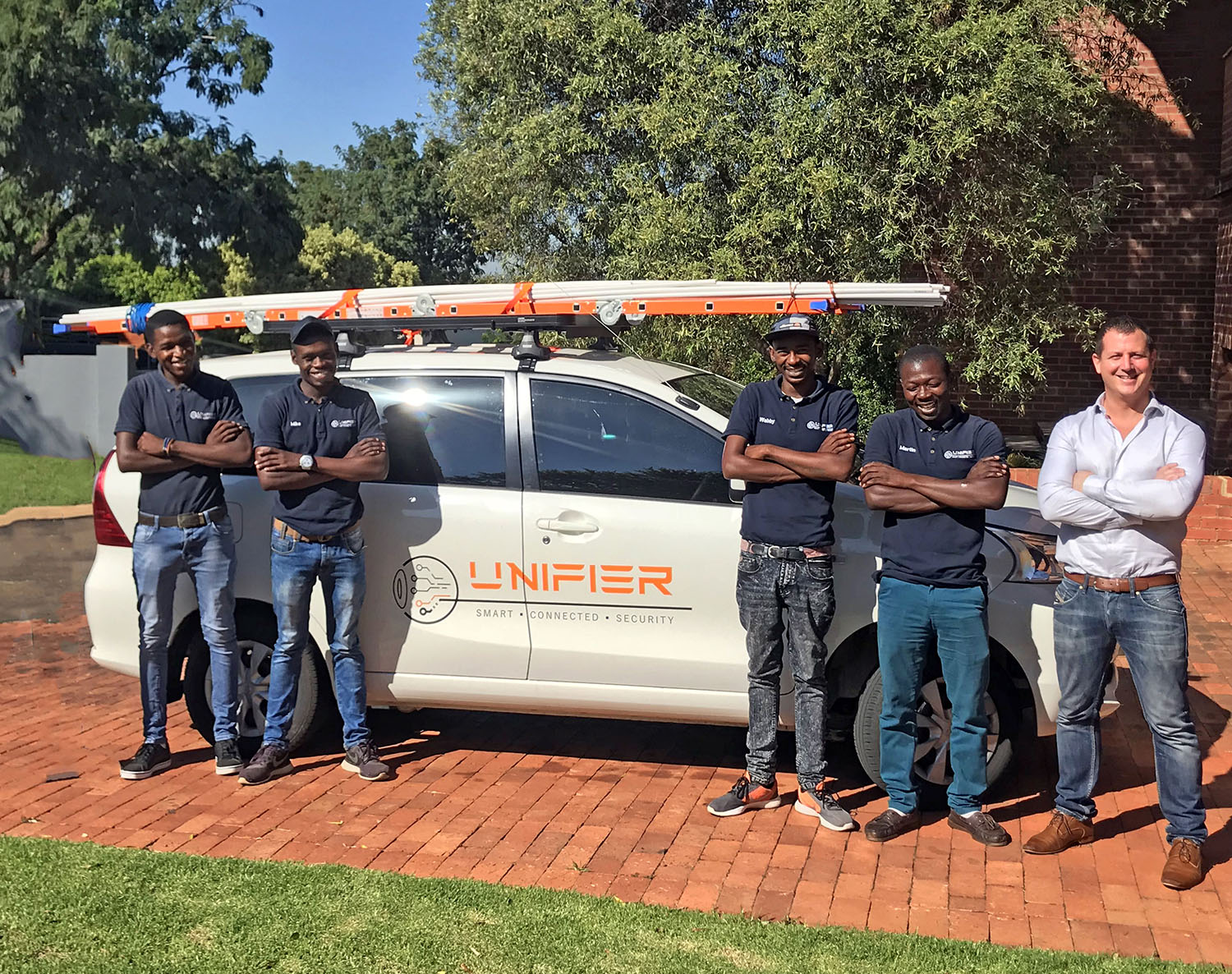 Iphrahim (Installer), Mike (Team lead), Wabby (Senior Installer), Martin (Team Lead), Anthony (Founder)